Instructor Bio - Inga Belozerova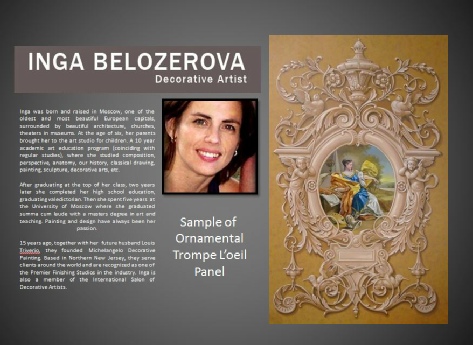 Inga was born and raised in Moscow, one of the oldest and most beautiful European capitals, surrounded by incredible architecture, churches, theaters and museums. At the age of six, her parents brought her to the art studio for children. A 10 year academic art education program (coinciding with regular studies), where she studied composition, perspective, anatomy, history, classical drawing, painting, sculpture, decorative arts, etc.
After graduating at the top of her class, she completed her high school education two years later, graduating valedictorian. Then she spent five years at the University of Moscow, where she graduated summa cum laude with a Masters degree in Art and Teaching. Painting and design have always been her passion.
15 years ago, she co-founded Michelangelo Decorative Painting with her future husband Louis Triverio. Based in Northern New Jersey, they serve clients around the world and are recognized as one of the premier finishing Studios in the industry. Inga is also a member of the International Salon of Decorative Artists.

Windy City Studios LLC © 2016 Stein Design
1165 Tower Road, Schaumburg IL 60173-4305 312-447-9600